Pit 63: Level 3
Completed March 22, 2014 by John Allison, Debbie Bloom, Dean Hunt, DC Locke, and David Brinkman. Besides a couple of possible Native American pottery pieces, there was not much to mention about level 3. In order to maintain/improve our artifact recovery average, this may be a good time to shift our focus to the other side of the fence for the remaining part of 2014. Overall, pit 63 produced 95 artifacts (149 is our average) including 29 pottery pieces, 36 glass pieces, 9 nails, 4 Indian artifacts, a jewelry piece, a brass button insert, and one pipe stem. This portion of the yard will now become (again) a garden for Odess. For today, it was now party time. We were soon joined by digger Fred Morrison and the Granby divers (Catherine Sawyer and Jimmy Armstrong) and enjoyed good food from Jocelyn and Odess. We finished the evening with the World Premiere of "Granby Dig 3D".
Pit 63: Level 3 produced: 4 pieces of pottery, 11 pieces of glass and 2 Indian pieces.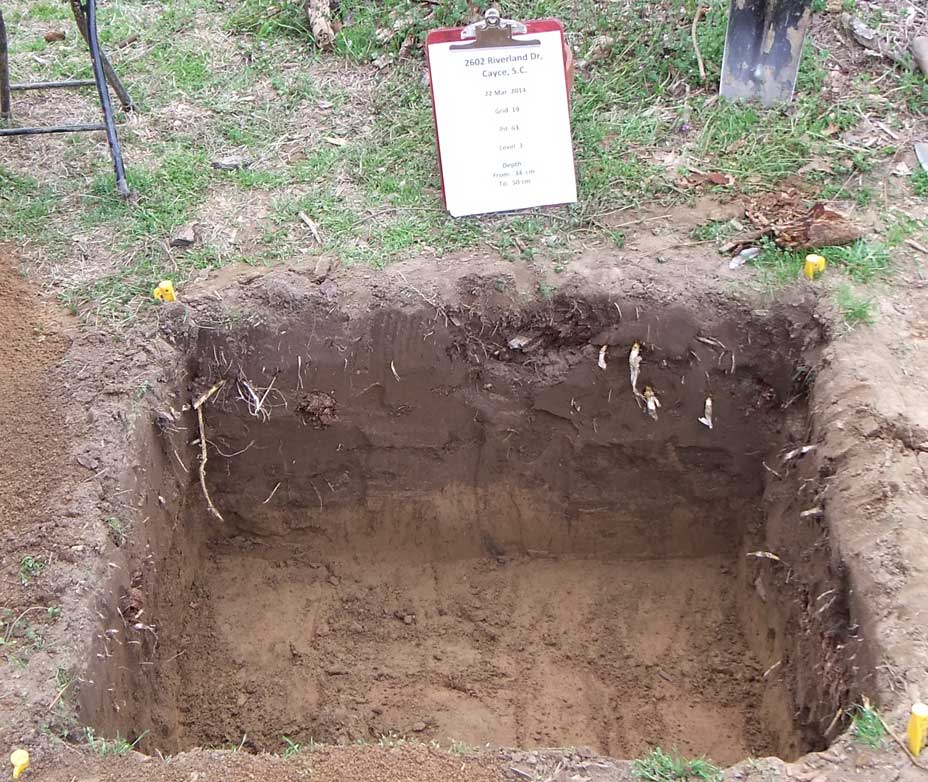 Below: John Allison earns his Granby Dig shirt (he did most of the digging today).
Below: Following a great dinner by Jocelyn and Odess, some of the Granby dig and dive team watch the World Premiere of "Granby Dig 3D".