Pit 67: Level 3
Completed on August 30, 2014 by DC Locke, Stacey, Alexis, and Faith Jodie, Dean Hunt, Jeff Fouste, Fred Morrison, Odess, and David Brinkman. As we hoped, the artifact rate picked up again in level 3. We were really finding some unique and colorful pieces of pottery but the best would come at the end. At about 48 to 50cms, David and Odess found two pipe stems from 1720-1750 and then David made the big find of the dig... our second Jew's harp. It was the same size and design as the one we found at 50cm in pit 51. At this point, no more artifacts were found except for a charcoal deposit. Pit 51 had a huge charcoal fire pit where we found the other Jew's harp and a 1680-1720 pipe stem. Colonial period Archaeology work in the United States has shown that most Jew's Harp's are found in fire or garbage pits. These musical instruments are played until the tongue breaks off (like what had happened to our harps). The harps could not be repaired so they were thrown away. This second Jew's Harp find in Granby seems to confirm our theory that the area's first Indian Trader (Irishman Thomas Brown) lived/camped at this exact spot somewhere between 1720 and 1747. When he died, his inventory was entirely made up of Jew's Harps which were very popular with the Natives. Brown owned the land between the road to Friday's Ferry down south to a point just north of where Fort Congaree II would be built in 1748. Given that the two harps, and almost all of the pipe stems older than 1750, have been found in level 3 of the pits (which is below the plow zone) , it seems that we are on top of two significant historical sites. One was the home of the area's first European settler (Brown), and the other was the town of Granby which formed after Brown died when his property was acquired by the Friday Family. The total results of pit 67 were impressive. 74 pieces of pottery, 58 pieces of glass, 35 nails, a buckle, a Jew's harp, 3 pipe stems, 5 pipe bowl pieces, 32 iron pieces, 40+ pieces of charcoal, and 8 Native American pieces. That makes Pit 67 the 6th best pit of the Granby dig.
Pit 67: Level 3 produced: 41 pieces of pottery, 21 pieces of glass, 11 nails, 17 iron pieces, a Jew's harp, 2 pipe stems, and a large deposit of charcoal.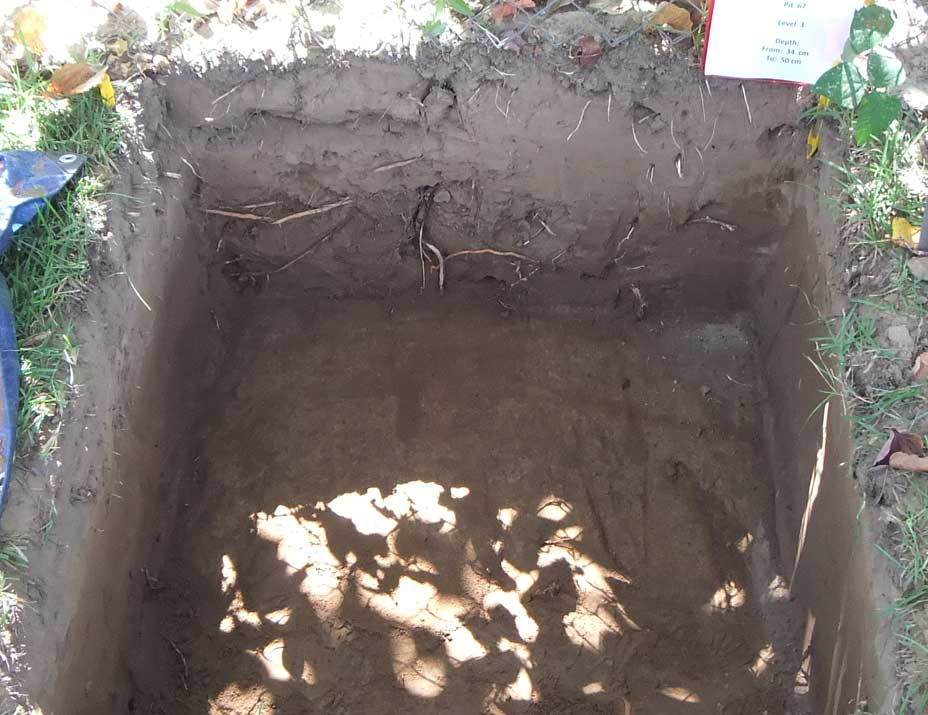 Below: Our two Jew's Harps from pits 51 and 67 and an 18th century painting showing a man playing a Jew's Harp.