The Marquis of Granby - John Manners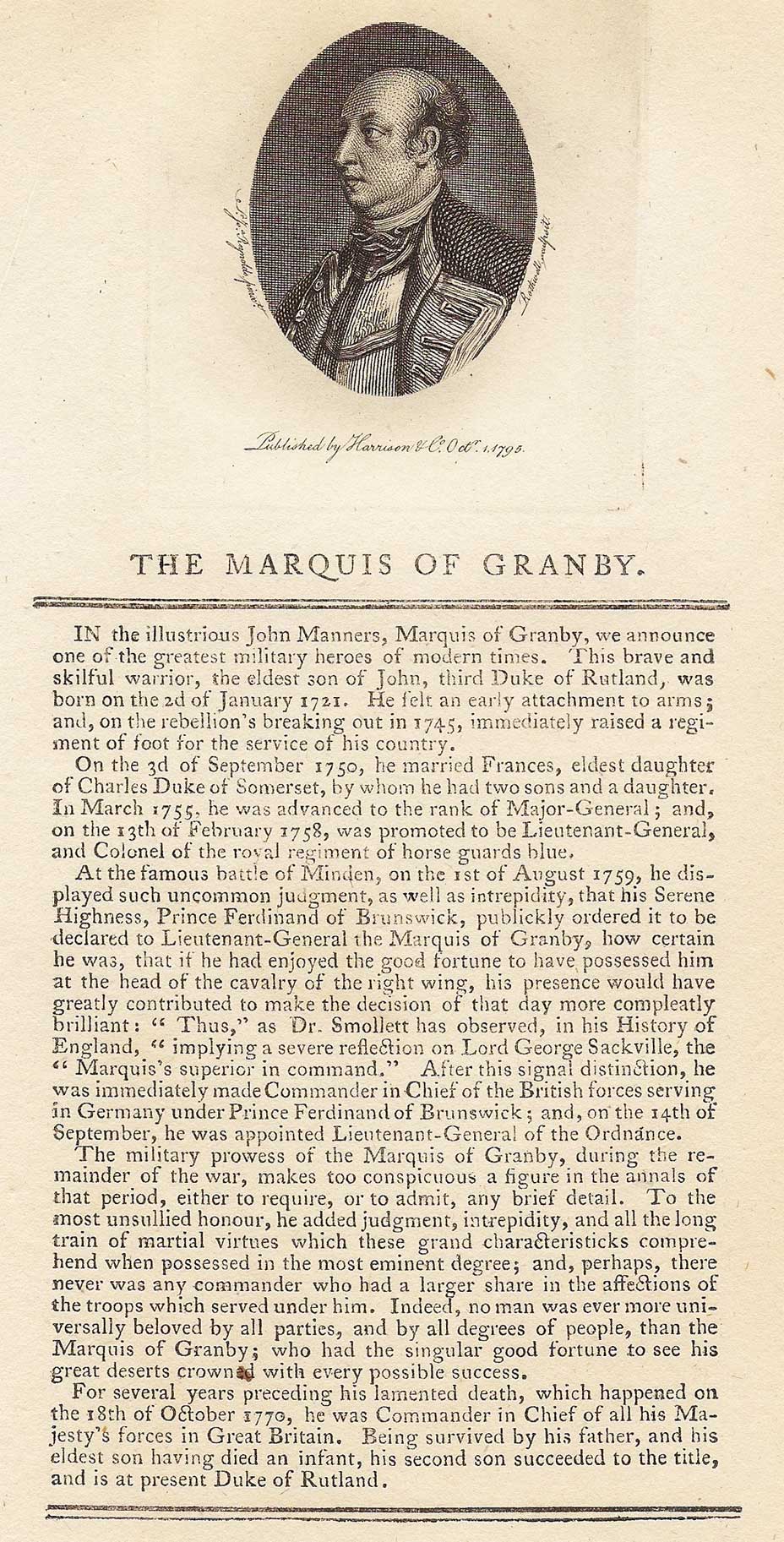 There are several theories on how Granby, South Carolina got it's name. When you consider the timing, however, it must have been named after Lieutenant-General John Manners, Marquis of Granby. Manners was the popular hero the Seven Years War (1760-1761) which was the first global war that the young America joined in. In fact, America's war effort was organized on the land that would take on the name Granby, South Carolina. Manner's was not just a war hero as is shown in these historical quotes:
"He is probably best known today for being popularly supposed to have more pubs named after him than any other person - due, it is said, to his practice of setting up old soldiers of his regiment as publicans when they were too old to serve any longer."
"One of the most affectionate tributes is reserved for the Marquis of Granby, Commander in Chief of the British army. After the Battle of Warburg, he bought pubs for all his non-commissioned officers. His generosity ruined him however and he died in 1770 leaving crushing debts of £37,000."
"Numerous tunes were written in honor of Granby, many of them martial in character. The very popular tune was issued on broadsides soon after his success at Warburg, and was regularly played in the British army by the time of the Revolutionary War. The Thompson firm (London) published it in a tutor for the fife around the year 1760 as well. "
Below is the 18th century music to a couple of these songs and following that are the words to one of the Granby songs.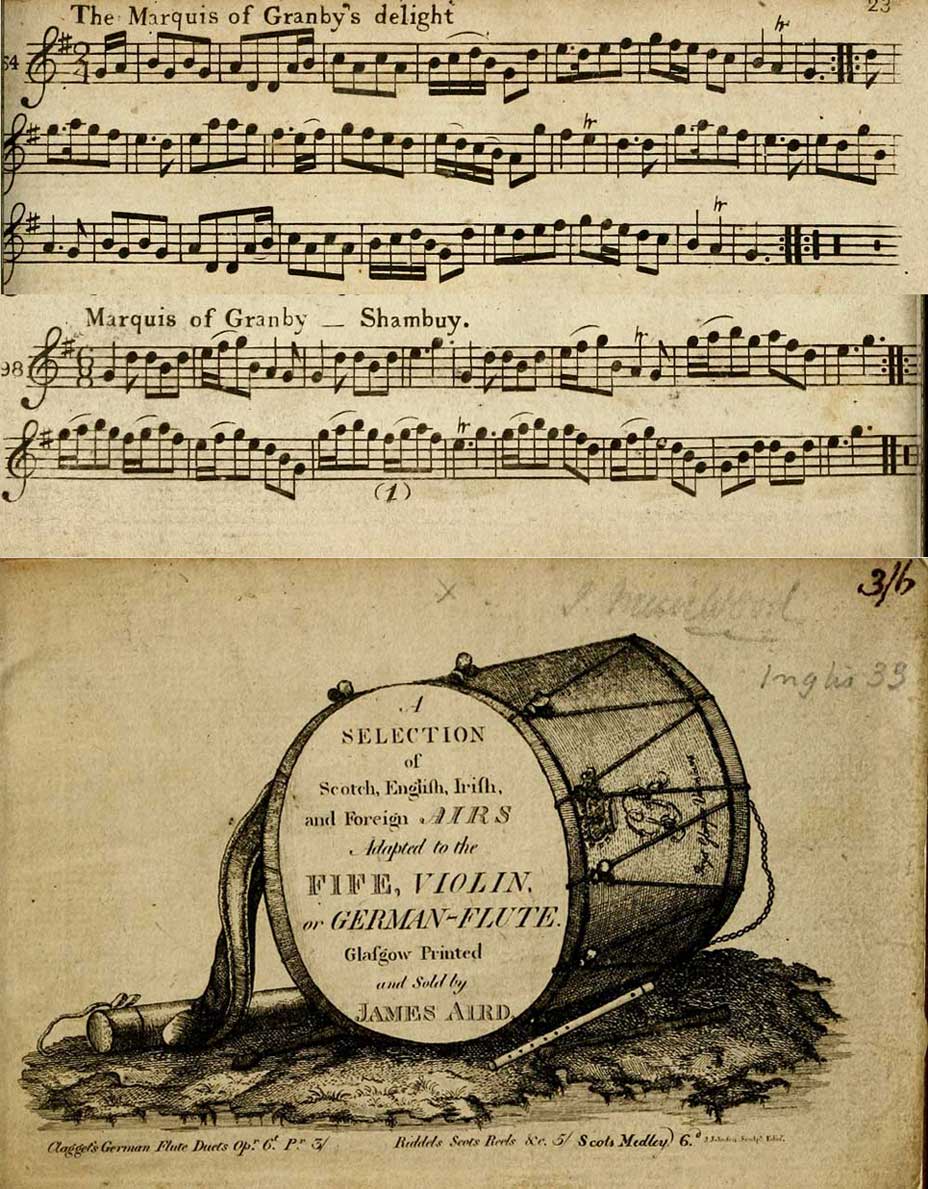 The words:
THO' Austria and Prussia, France, Flanders, and Russia,
Have Heroes who claim an attention;
On the long list of Fame, as I look'd at each name,
A Briton I thought she shou'd mention.
A Man among Men,
Who was worthy her pen,
Nor cou'd she doubt who must the Man be;
As I saw not the whole,
She unfolded the scroll,
And on top stood the Marquis of Granby.
Old Time shook his Scythe, as he tott'ring stood by,
His Iron Teeth dreadfully grated;
Yet the sad-looking Crone clear'd his brow from a frown
When Fame had my business related.
The cheeks of the Churl,
With a smile, seem to curl,
And cheerfully answ'ring as can be,
Say, single-lock'd Seer,
Sir, this point's pretty clear,
We all lov'd the Marquis of Granby.
III.
By order of Fate I was bid to translate
That Hero to happier station;
The trumpet of Fame shook the air to proclaim
Her Granby's beatification.
He shines now a Star,
Near the Planet of War,
Illustrious Soldier befriend us,
Be thy Influence our Shield,
And, when dar'd to the Field,
May thy Martial Spirit attend us.
IV.
Grief, away with your tears, see his Lineage appears,
We remember those looks, and adore 'em;
They shall live in our love, and, my life on't, they prove
As brave as the brave Man before 'em.
What more can we say?
But the Granby's huzza!
Encore! loud and loud as loud can be;
To the brim fill it up,
It is Gratitude's Cup,
Off it goes, To the Offspring of Granby.