Pit 51: Level 3
Completed October 20, 2013 by Dean Hunt, DC and Jocelyn Locke, David and Odess Brinkman, Kate Wardlaw and Tonya Morris. Things got really interesting in level 3. We found some good and colorful pottery and 25 pieces of Native American pottery (a new record)! Level 3 also produces a good number of slate pieces which could have been part of a floor in a Granby house/store. David came up with probably the neatest find. He didn't know what it was but Dean quickly identified it as a Jew's Harp. Our first musical instrument find. We would later learn that this brass piece had the shape and size unique to Jew's Harps from 1700-1760. This coupled with DC's find of the 1680-1720 pipe stem takes our dig to another historical period and may connect the site to a legend of the Midlands. Thomas Brown (from Ireland) arrive in this area probably before the building of Fort Congaree I in 1718. He became the most well know of Traders in the area and married a young Catawba girl. He mixed in well with the Native American population. In 1740, he purchased the original 100 acres granted to John Matthews which makes up the exact section of land that the Granby team has identified as the village of Granby. Brown died in 1747 and the land was bought by Martin Friday who would see it developed into Granby. The book "The Expansion of South Carolina" shows that, at Brown's death, he left an inventory of just Jew's Harps. These harps were very popular with the Native Americans and were often used in bartering and even land purchases. The discovery of the Jew's Harp, the old Indian pottery, and the older pipe stem (along with the fact that our average age of all our pipe stems is older than Granby) leads us to the possibility that our Granby dig may also be on top of a site where trader Thomas Brown lived or worked. This is very important and the Granby team will now put some focus on researching Thomas Brown. This is very exciting. If this wasn't enough, we also found our most significant feature of the dig. It appears to have been a fire pit and it was loaded with pieces of wood charcoal. Examination of the contents showed, other than hundreds of charcoal pieces, some very small brick fragments and one pottery piece. We conclude that it is more likely to be a Granby fire and not Native American but it could be something newer. This is without a doubt, a case where radiocarbon dating may be the best (and only) way to date this potentially important find. All levels totaled, pit 51 sets a new record for total number of artifacts (thanks to all the charcoal artifacts). We had a total of 88 pieces of pottery, 86 pieces of glass, 25 pieces of Native American pottery (a new record), 20 pieces of iron, several brass pieces, 14 pieces of slate, 2 pipe pieces, and a Jew's Harp. Pit 51, on the Artifact Power Rating, jumps up to #4. Most important, it also takes the dig site back to a generation before Granby to the time of the first Indian traders.
Pit 51: Level 3 produced: 52 pieces of pottery including 25 Native American pieces, 86 pieces of glass, 22 nails, a Jew's Harp, 5 pieces of slate, and hundreds of pieces of charcoal.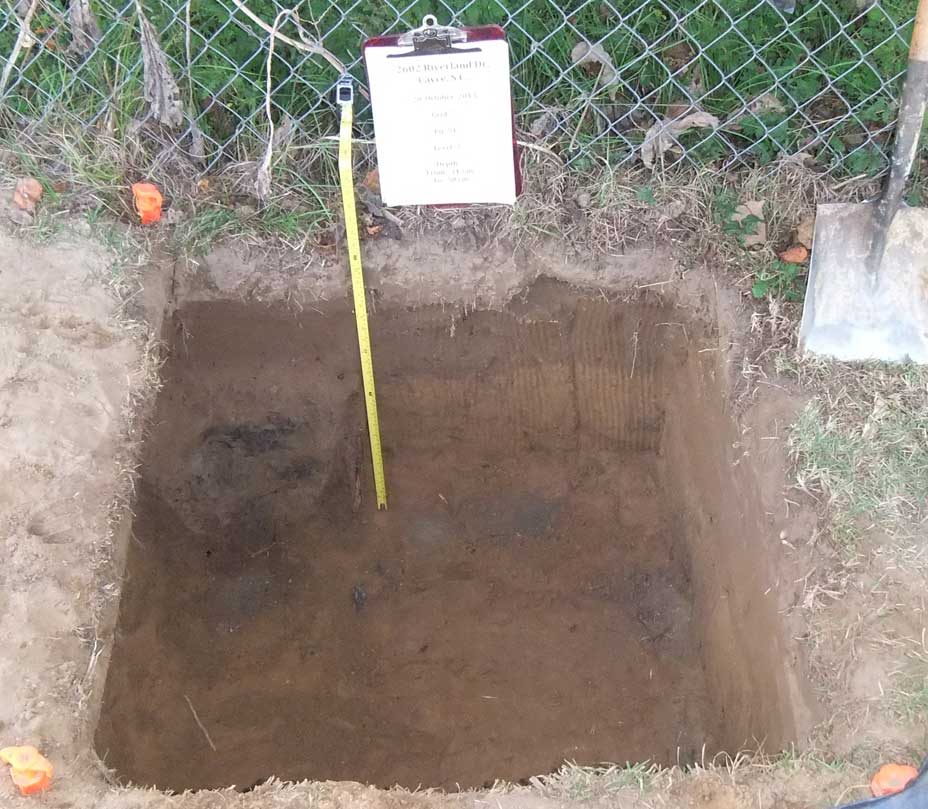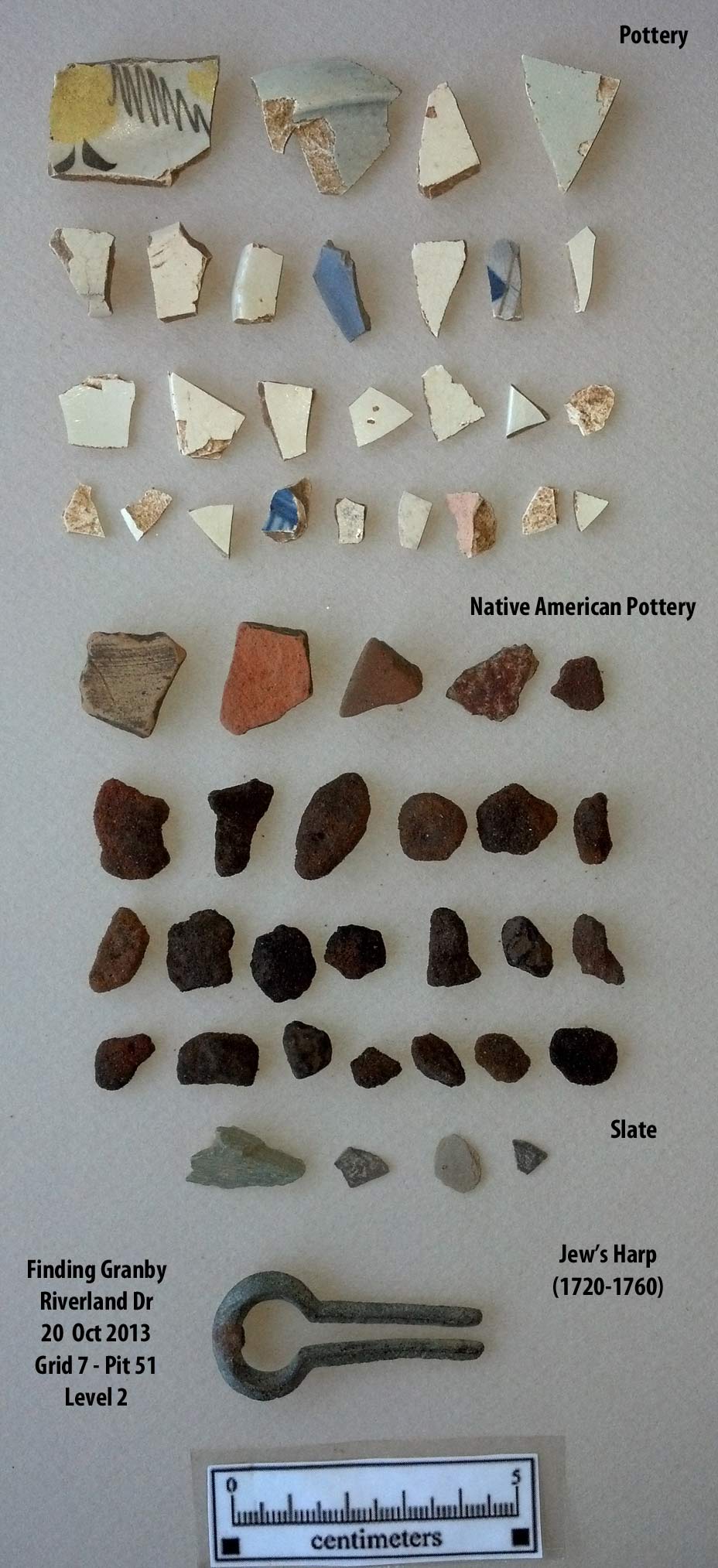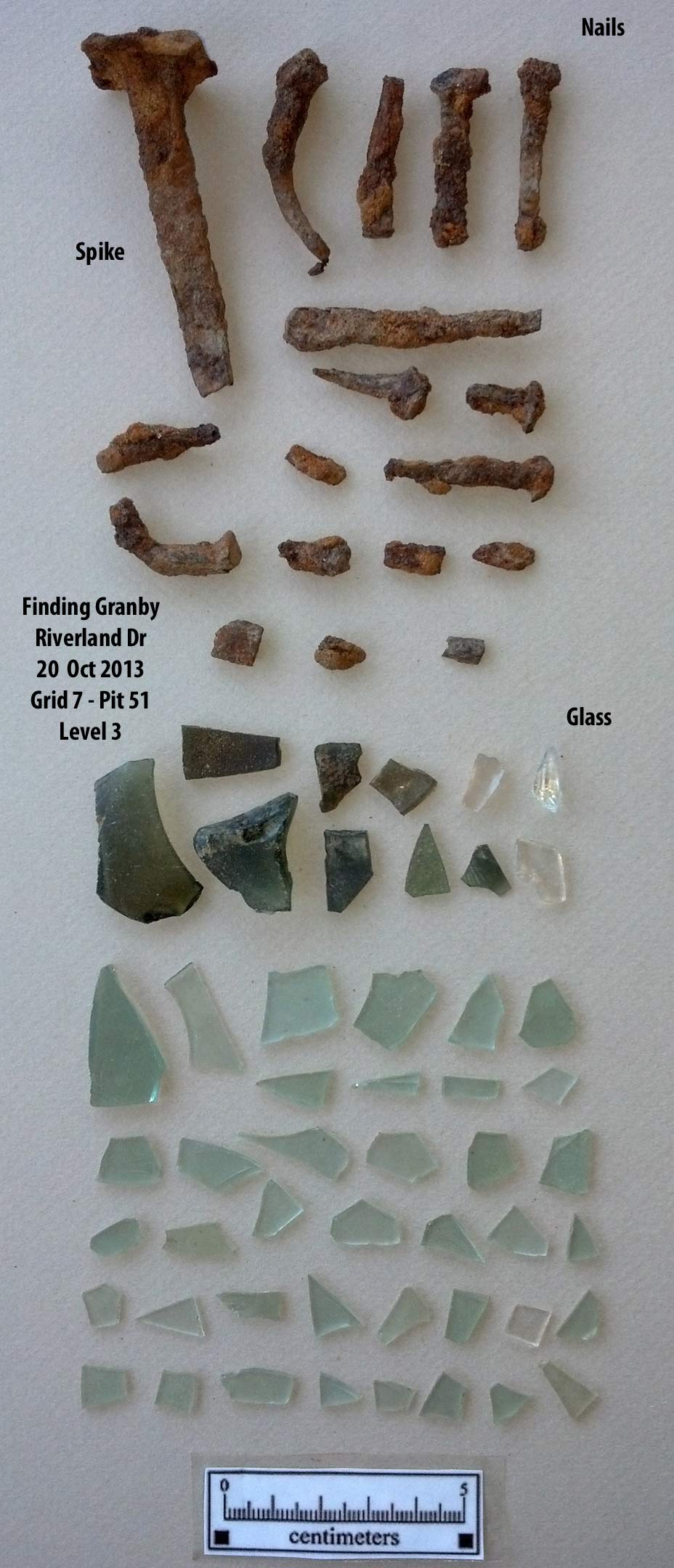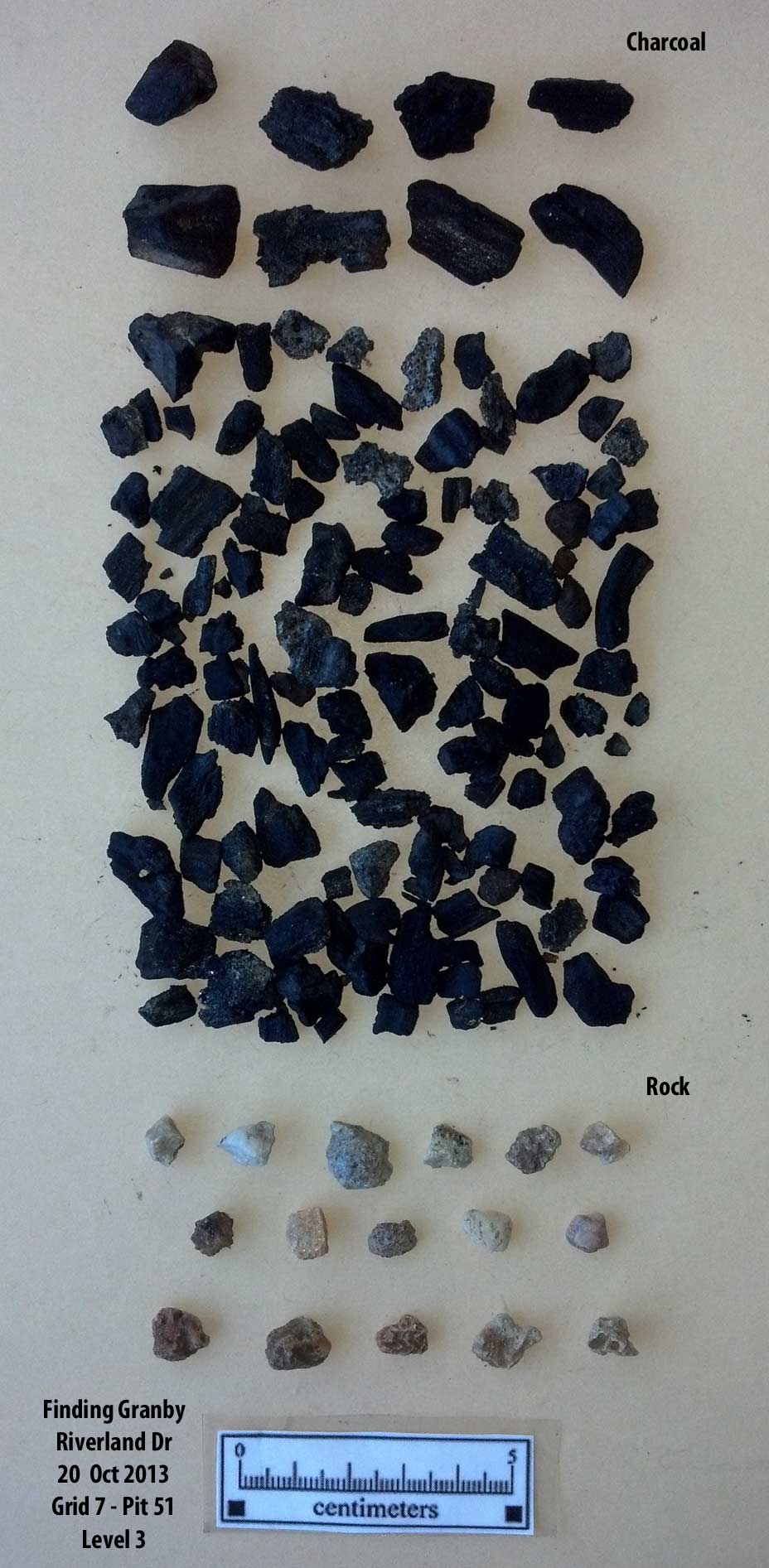 Below shows the pit with the charcoal feature left in place in the middle left corner of the pit.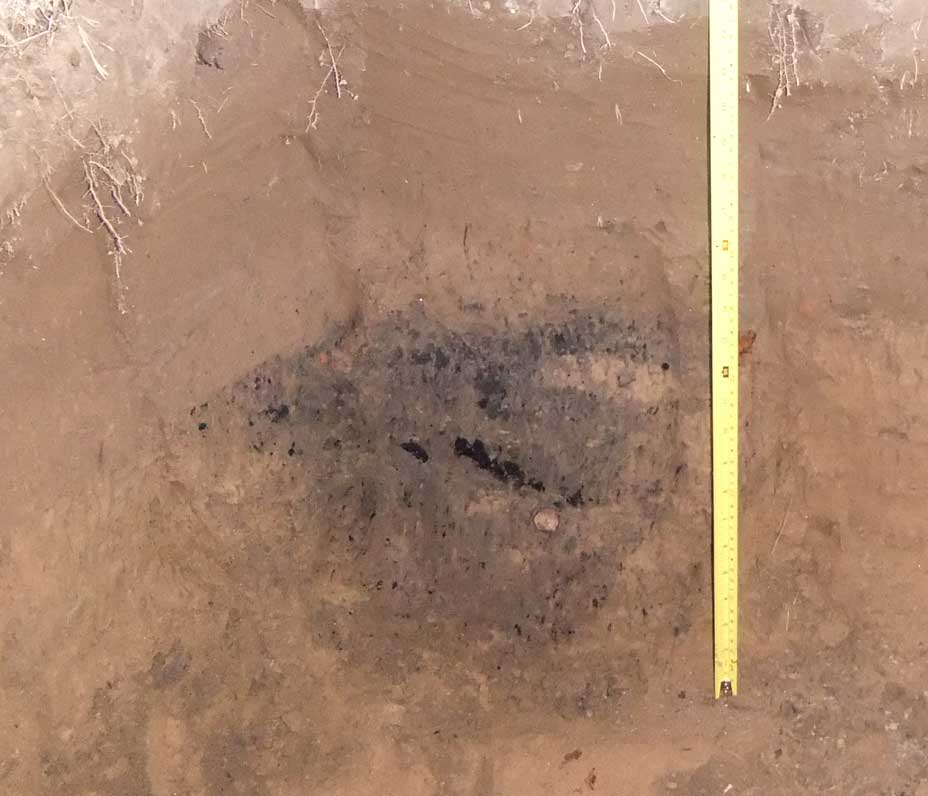 Below is the feature after most of it has been removed for more detailed excavation.




The image below shows the feature after almost complete removal.




Below is the process of carefully washing away dirt from the removed feature segments.




Below are the final results after all dirt is removed.