Pit 92: Level 2
Completed by Steven Rougeau, Teresa Mitchell, Odess and David Brinkman, and DC Locke. DC joined us in level 2 and we made the decision to do all three levels today with all the help we had. Joey Holleman (formally of The State Newspaper) stopped by for a while as well as a neighbor who has spent his life in the Riverland Park neighborhood. Level 2 produced a good number of nails including a pristine "T" head nail with absolutely no rust. We have found over 1670 colonial period nails in this dig and this is only the second pristine one. The theory had been that the old process of making nails creates a protective coat on the nail and, if unused, is immune to rust. Our first nail like this was perfectly straight and may well have been unused but this one was bent as though it had been hammered down. But, maybe not. Maybe it was bent during production and then thrown away at the build site. As we leveled off level 2, we were surprised to see a new feature appear on the east side of the pit (not the north-west corner where we were expecting the continuation of the pit 89 feature). The north-south dimension of this new feature did, however, match the same dimension of the other feature. We need to carefully monitor this as we work level 3 and look for a continuation of it in a future adjacent pit.
Pit 92: Level 2 produced: 10 pieces of pottery, 14 pieces of glass, 7 nails, and a pipe bowl piece.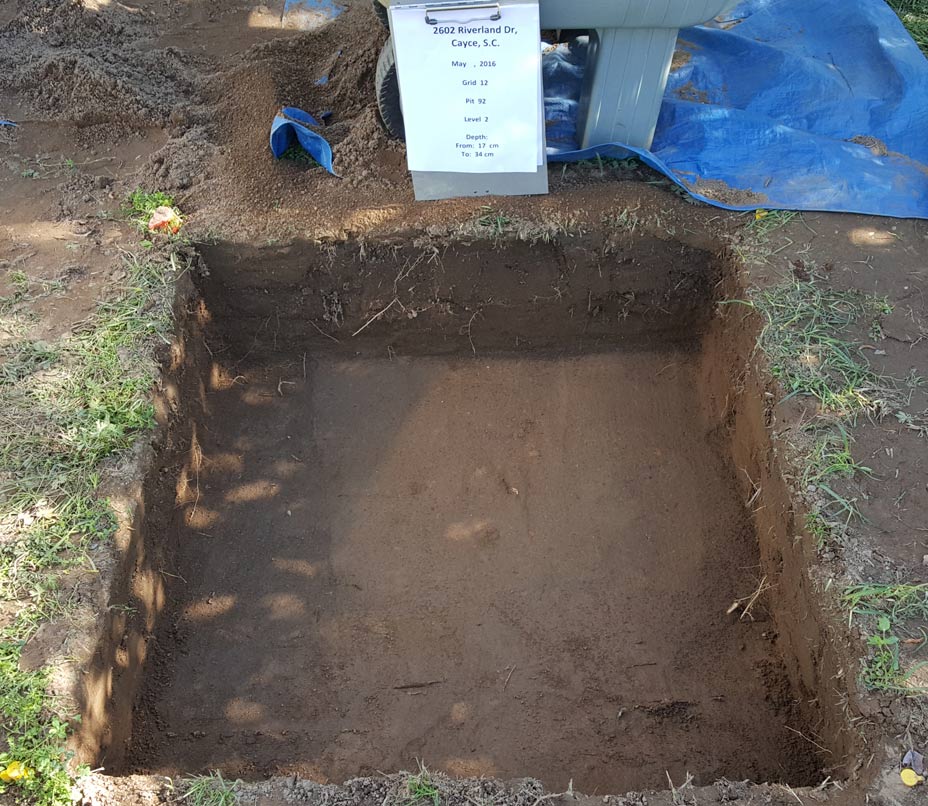 The "T" Nail. No rust!