Revolutionary War buck and ball shots found in Granby dig

Through pit 88, we now have 21 balls (22 if you count the bitten lead piece in the above photo) found in 19 different pits. The following image shows you these 19 pits and how they are in a pretty straight line with the site of Friday's Ferry. The pit that is a little out-of-line (pit 40) had a ball that was about 40% flattened (it was fired and hit something).
Why is this significant?
On May 1, 1781: "South Carolina Patriot militia Lt. Col. Henry Hampton attacked the British detachment guarding Friday's Ferry. Hampton's men killed 13 of them. Hampton then attacked another small detachment on their way to Fort Granby. Another 5 were killed in this action and Hampton captured a number of horses and slaves."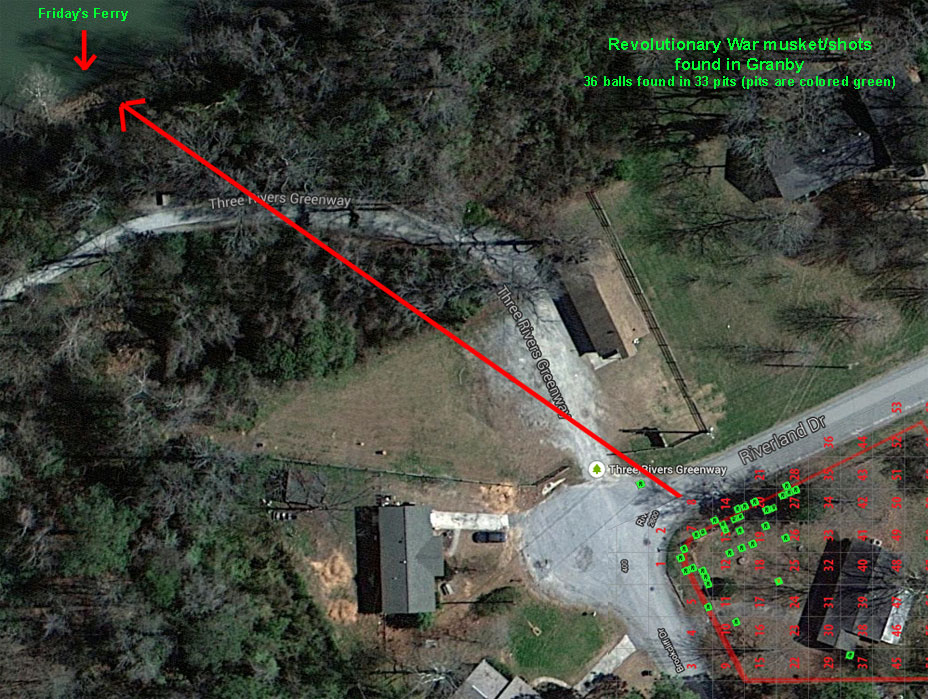 We continue to keep an eye on this interesting alignment of buck and ball shots in Granby. The following links take you to the artifact pictures for each pit/level that produced a buck-ball artifact:
Pit 17 - .27 Caliber Buck shot
Pit 20 - .36 Caliber Ball and small Buck shot
Pit 21 - .18 Caliber Buck shot
Pit 25 - .27 Caliber Buck shot
Pit 40 - .27 Caliber Buck shot
Pit 48 - .27 Caliber Buck shot
Pit 52 - .27 Caliber Buck shot
Pit 53 - .60 Caliber Ball
Pit 56 - .27 Caliber Ball and .20 Caliber Buck shot
Pit 58 - .27 Caliber Buck shot
Pit 61 - .39 Caliber Ball
Pit 65 - .27 Caliber Buck shot
Pit 70 - .18 Caliber Buck shot
Pit 71 - .31 Caliber Ball shot
Pit 74 - .25 Caliber Buck shot
Pit 76 - .26 Caliber Buck shot
Pit 85 - .19 Caliber Buck shot
Pit 87 - .27 Caliber Buck shot
Pit 88 - .27 Caliber Buck shot
Note: Ball sizes are determined by both diameter measurements and by weight where diameter size = 0.223304 x grams^(1/3)
Below is the .60 Caliber Ball found in pit 53 on November 10, 2013