Welcome
Quick update: Completed Pit 107 on May 22, 2020. Pit 107 gave us a great set of artifacts that pushed us over the 18000 artifact total. A single artifact in this pit has become a game changer for the Granby dig. It means the dig will need to be expanded in two areas to cover the growing area of the old homesite. Pit 106 became the first pit dug outside the dig property. It was on the edge of the main town square and the rusults from it point to (not surprisingly) to another nearby "hot zone". Pit 105 delivered a diverse set of 258 historical artifacts which made it one of the top Granby pits. Pit 103 and Pit 104 were completed in the transistion from 2018 to 2019. The story of Granby, and the amazing events that led to her discovery have been published in the book: "Miracles To Yesterday" by David Brinkman. On June 29, 2018, a book signing took place at the Granby Dig site. The Granby Dig Museum was open to the general public during this event. the Pit 102 was completed after the book signing. Please stay tuned to this page to see additional dig days/times if the pit is not completed on June 29, 2018. Just over one year ago, we completed the Pit 101 dig on May 26, 2017. We completed major milestone Pit 100 dig on November 12, 2016! The event featured a full museum display. The dig also put us over the 100 pipe stem count. All the Granby data has been submitted (an official archaeological site report) to SCIAA (the South Carolina Institute of Archaeology and Anthropology.) We compeleted Pit 98 on October 22 and Pit 99 on Halloween. After an over 3 month break, the digging started again with a bang on September 17 in Pit 97 where we found a piece of a Black Basalt Tea/Coffee pot from 1790. Kathy Keenan has just finished her Master's Thesis on Granby and has made it available at this link. Kathy also painstakingly transcribed the Congarees Store Account book into a spreadsheet so that we can analyze what the people in Granby were buying. You can check this out and other top finds of our 4 years of research and digging in Granby at this link. After heavy rains, another 162 artifacts were recovered from the flood damaged area including our best pipe find to date: A Gouda, Holland pipe from 1740-1750 which was probably owned by Indian Trader Thomas Brown. Check it out at this link. Pit 96 gave us a suprise feature at the end which took a little while to completely explain. A possibly huge Native American find in Pit 95 in what may be tobacco flower/seed-pods found in a pipe bowl size deposit of charcoal. Civil War items just found in Pit 94. Pit 93 gave us 305 artifacts including our 15,000th artifact of the dig. It also gave us new records for brick and window glass. Architecture artifacts and features of all the previous pits led us to believe that pit 93 might be the north-west corner of the house/kitchen. The huge numbers of brick, window-glass, and nails in pit 93 suggest that this could be the corner of the house. Major features have now been found this year in Pit 93, Pit 92, and Pit 91. Could this be the Well? We completed 2015 with Pit 90 in a new grid which showed significant disturbance from the 1960 contruction of the sewer line. Pit 89 produced two wonderful pieces of Native American artifacts (a tool and stamped pottery piece). It also gave us a deep feature that solves a mystery. On Black Friday, Pit 88 gave us a surprise with 290 artifacts in 12 of the 13 categories. That makes it the 3rd best pit to date. We completed Pit 87 on November 14, 2015. Three more pipe stems there brought our total to 88 pipe stems in 87 pits and our overall artifact per pit average is at a new time high of 160. We also found a .27 caliber musket ball and a mystery item which looks like a .50 caliber bullet. Pit 86, completed on October 16th had a big find: glass fragments that come together to form a 1739-1751 English green wine bottle which probably belonged to the area's first Indian Trader, Thomas Brown. The rain and flood of October 2015 exposed over 260 artifacts (including 7 pipe stems and a musket shot) in the damaged easement areas around the dig site. These were recorded in a "no-dig" Pit 85 . We completed Pit 84 on Sept 7th where, thanks to a deep firepit, we had our second highest artifact total (362). On July 26th, Pit 83 had over 100 artifacts in a rare level 4. On June 28th in Pit 82 we almost tripled our record of Native American artifacts in a single pit. Do we have a third building? Finds in Pit 81 (completed June 12, 2015) may have narrowed the size of the store house and could point to a third building (a Privy) in the area of Pit 45. Check out the updated analysis of our 81 pits (artifacts, features, and research) which shows what we may have found. Click here to see the big picture. In a special 3rd year anniversary dig on May 26, we opened the Granby Museum & Pub and completed Pit 80 where we found our nicest arrowhead to date (a 10,000 year old Dalton point). On May 3rd, we completed Pit 79 and found more features related to the North wall of the Granby building. We started the year with Pit 76 which was one of our best pits with finds in every category. Adjacent pits 72, 75, 76, and 79 all had holes and wall features that line up with being the North wall of a building.
Major announcement: We have found Fort Congaree II ! See this official announcement from USC. We completed Pit 73 on November 9. We found 4 pipe stems which, for the first time, we have more pipe stems than pits.Pit 72 was completed on Oct 31, 2014 in our first Granby Ghost dig. The results were shocking and included a couple of clothing items and a rare post hole. Most of the artifacts were found in level 2 making it one of the best levels of the dig. Pit 70 (completed on Oct 19, 2014) surprised us and ranks #11 in artifacts. This almost certainly means that we will expand the dig along the Brookcliff Drive side of the property. John Allison found our missing link at the South Caroliniana Library. It was a map of Granby by Sarah Friday from about 1810-1815. An overlay of her drawing shows us the key Granby landmarks on today's map. It also tells us the Granby dig site is the old home site of Sam Johnston. Check out more on Sarah Friday, her drawing, and the overlay here.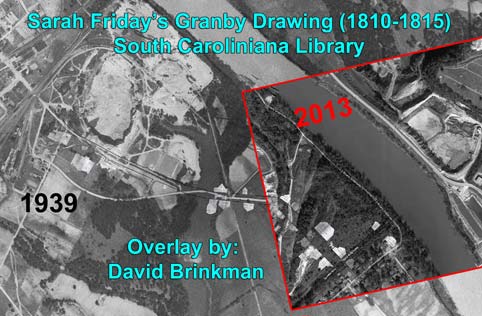 New Granby dig pipe stem analysis
A neat thing in our Granby dig has been the large number of ceramic pipe stems found. Europeans became interested in tobacco from the Native Americans and in 1612, tobacco quickly became the main cash crop for the Jamestown, VA settlement. By the early 1700's, ceramic pipes were being mass produced in Europe and imported to Colonial America. Over several hundred years, the pipe stems were made longer for two reasons. As the pipe was smoked, saliva and tobacco would clog the end of the stem and it had to be broken off. The longer the pipe, the longer it could be used. In the case of public sharing of a pipe, the tip of the stem was also broken for sanitary reasons as it was passed to a different smoker. In order to keep the stem strong as it was made longer, the bore hole in the stem was made smaller. About every 30 to 50 years, the stem's bore hole was deceased in diameter by 1/64 of an inch. Today, when a section of pipe stem is found, its bore hole can be measured with drill bits to determine the approximate age.
We have now found 66 pipe stems in Granby. This makes for a big enough sample to do some analysis. The majority of stems come from the 1720 to 1750 period. This would have been about 10 years before Granby. The next common group came from the 1750-1800 period which would have included Granby smokers. The smallest set (only 4 pipe stems) came from the 1680-1720 period which was well before Granby. We know that the first Europeans did not settle this area until about the time Fort Congaree 1 was built in 1718. We believe those pipes from 1680-1720 were probably sent here between 1718 and 1725. The pipe stems from 1720-1750 were probably also sent here closer to 1720 than 1750. The stems from 1750-1800 were probably from the prime period of Granby which was 1765-1800. This gives a clear distinction (close to 30 years) between the two older groups and the newer group. This alone was just a theory. What could prove or disprove it would be another important statistic that we record in the dig. That would be the depth that each pipe stem was found. The deeper artifacts should be older. As it turns out, the average depth of the pipes stems of the two older groups (1680-1720 and 1720-1750) are the same, 26 centimeters. The newer group (1750-1800) is 20 centimeters. Another clear distinction that agrees with our theory which was based on historical documentation. The Granby dig is not just Granby. It also goes back to another documented period of the first European settlers. The artifacts and the science prove this.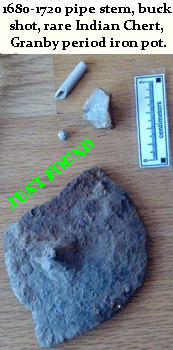 Granby was once chosen to be the Capital of South Carolina. What happened?
On Memorial Day weekend (2012), we started the physical search for Granby just a few hundred feet away from the recently found remains of what most Historians think was Friday's Ferry (1750-1810) in what should have been the town of Granby. Our goal... to be the first to provide scientific proof of this. Along the way, we have also built a nice set of archival evidence that pin points the location of Granby. We have also begun to build a picture of what Granby looked like and who lived there. With over 16,000 archaeological artifacts and features found (most of which are Granby period) we may have already proven the case. Our goal has now extended to providing a museum presentation so all can experience this important, yet forgotten, South Carolina village. So, the digging (dirt and paper) continues. Check out the links in the right column for some of the archival research we have done. Pull down the above Artifacts menu to view pictures of what we have found in the ground or
select this link to see what was found in one of our better pits.
Granby Background
For over 12,000 years this area was occupied by Indians. In 1716, the area's first European inland trading post was started at "the Congarees". In 1718, to deal with outside trade and Indian insurrection, Fort Congaree was built on Congaree Creek near the Congaree River. The first S.C. backcountry settlement started near the Fort in 1730 at Saxe Gotha. Many of the first residents were kidnapped and murdered by the Indians. Because of this, Fort Congaree II was built in 1748 just above Saxe Gotha. In 1761 this area entered the World's first global war; The Seven Years War which was better known to Americans as the French-Indian War. In the flat area that now makes up Cayce's Riverland Park, many Historians believe the town of Granby begin taking shape in the early 1750's. Around that time, about 3000 British Regulars and S.C. Provincials (including the young Francis Marion, John and William Moultrie, Isaac Huger, and Andrew Pickens) camped for several months before launching their attack against the Cherokee in 1761. Saxe Gotha resident Martin Friday had opened a very important ferry at this site around 1750 and Granby pretty much replaced the town of Saxe Gotha by 1760.
During the Revolutionary War, the Granby Store (just North of Friday's Ferry) was taken over by the British and converted to a Fort. On May 2, 1781, with about 400 to 500 men, General Thomas Sumter (the Gamecock) laid siege to Fort Granby. On May 14, 1781, Lt. Col. Henry Lee (Father of Robert E. Lee), with 400 to 500 infantry, arrived at Granby on the evening of May 14th, 1781. Already there besieging the post was a small detachment of Sumter's under Col. Thomas Taylor. After a show of force, the British surrendered. In 1791, Wade Hampton (grandfather of the Civil War General and Governor) built the first of three bridges over the Congaree. His first bridge was not yet finished when President George Washington came through so Washington took Friday's Ferry. All three of Hampton's massive bridges were lost in floods between 1792 and 1799.
Due to frequent flooding and the development of Columbia on the east bank, Granby slowly disappeared over the next 25 years. The area was mostly unoccupied until earthworks were built by the Confederates in 1864. This would be the last fight for Columbia in the Civil War in the Skirmish at Congaree Creek in February of 1865. During WWI, Guignard Bricks created the nearby clay pits which are now a unique natural preserve. During WWII, the Cayce Quarry owners destroyed Fort Granby (then known as the Cayce House). In 1960, against much opposition, the Riverland Park neighborhood was built in the flood plain on top of the old Granby site.

Columbia Telescope, May 14, 1816:
Granby, like London, is divided by a river, over which there was formally a bridge connecting the two towns, which are distinguished by the names of East and West Granby, situate two miles S. W. from Columbia, the latter of which will only employ the attention of the reader, the other merely serving as a landing place for Columbia. This town once bid fair to rival Columbia in trade, but is at present in its wane. The people hereabouts are chiefly Germans or their descendants. It has a Church, but it appears now only though the tops of the corn, being situated in the middle of a field near the river; the building is low, having no spire, except a pine pole 4 feet long, on way of which the inhabitants have placed, by way of ornament, a small house for the peregrinating swallows, emblematical of their hospitality to strangers - in beholding this church we may with Isaiah "there shall the great Owl, make her nest, and lay and hatch, and gather under her shadow; there shall the Vultures be gathered every one with her mate." The Granbyans are great smokers, and have a fondness for their town, few ever leaving it but for another world; they are great observers of Easter Sunday. There is a Crout Factory, established by that enterprising citizen Snyder Scoffle, an inspector of which commodity, is employed, and according to the usage of the people, ex-officio mayor of the town.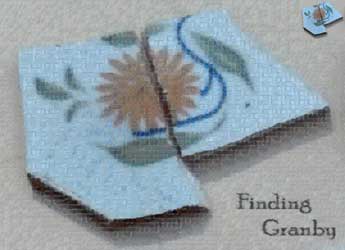 ------
From Sumter's "The Watchman and Southern" newspaper, May 20, 1891
Columbia's Centennial Address by General Wade Hampton:


"Failing to put our town (Columbia) at Granby, the present site was selected and the land on which it stands, bought from Colonel Thomas Taylor, distinguished soldier and patriot of the Revolution."

"Though our city is not at Granby, that old city has many historical incidents connected with it, which should make us regard it with respect and affection."